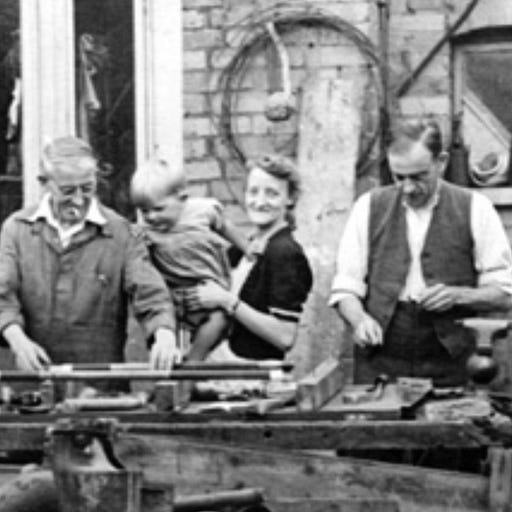 Nov 3, 2021
My First Memory Podcast
A couple of paperbag stories or a reflection on life, never less than half-imagined. This 77 year old is beyond real. Be prepared for the unexpected.
Pop, my maternal grandfather, me, my mother Betty, single at the time and probably on a visit to Swinderby Road, as she was in service with a family called the Coopers, then my Uncle Sid, Pop's brother. The back room of the house was Pop's workshop. He and another brother, Arch, who lived in Pinner, ran a plumbing and central heating business, H Howard and Sons, they had inherited from their father, my great-grandfather. The partnership ended after the death of my maternal great-grandmother in 1953. She lived in Pinner with Uncle Arch and I saw her most weeks.
HERE IS A TEXT VERSION OF MY FIRST MEMORY AND SOME NOTES I MADE TO USE AS PROMPTS:
My first memory
My early years are blank,
I only know what I've been told,
Or seen in photographs of me,
Are they clues to who I am?
Perhaps reality lies hidden.
When did I become aware?
Sitting in a pushchair,
Uncle Sid and Pop. A fight,
Men running,
Pulling Pop and Uncle Sid apart.
I see it still.
Though eighty now, not three.
My mother shouting.
Then across the road.
We all go.
I hear Pop taking charge.
'You can let them go'.
I sat and watched.
'You can have a car'
'No, better on the bus' I heard Pop say.
Left in Nanna's care,
I remember little of those childhood years,
Pictures show a happy child,
One, standing on a tank,
And, yes, I see the man in me.
Conjuring memories now is easy,
Just how real are they?
And here they come,
A frenzy in my head,
A maze I scramble through.
Perhaps a play describes them best,
In the theatre of my mind,
Sometimes victim, never hero,
Sometimes audience, never star,
Then passive, watching other lives.
Now I see my life in others,
Childhoods that seem my own,
Still upon a stage,
Love growing up,
A family moving on,
And that first memory?
I was two, not three.
But was 26 before I knew,
It was a family gathering,
Of a kind we all dread.
'Well I never' my Pop said,
'Fancy you remembering that,
Now that Sid is dead',
Then we laughed,
And wondered who'd be next?
I wrote his poem of sorts on 3rd April 2011 at a WEA writing class I attended in Beeston. The class tutor, Mike Burnham, asked the class to write about a childhood memory. I read it on the day and filed it away. Joining Substack and encouraged to make a podcast, this is my third one.
The best so far I hope and this time I have had a little microphone to help, which I bought via Amazon for all of £15, which arrived today.
As for My First Memory, it is how I still hear it in my head. There is a photograph of me with Pop, my mum and Uncle Sid, which I will include with this podcast.
Pop was my maternal grandfather and I grew up with him and my nanna in the house they owned in Wembley between 1944 and 1966. Nanna died in 1960 and Pop in 1976. I dream of Pop most weeks,
My Uncle Sid was Pop's brother and from 1923 until his death in 1970 lived in the Springfield Asylum, near Tooting in South London. He never recovered from his years as a Prisoner of War in Mesopotamia during The Great War.
Uncle Sid came to stay with us in Wembley from time to time and Pop would go and see him every month. At some point, probably after I was nappy trained I would go along as well. It was two trolleybus rides away — a 662 and a 630 — and so began my love affair with trolleybuses, which continues to this a day, even though they disappeared from London streets in 1962. I was there to see them go and I mention this podcast about my first love Joy and a ride we had together on my beloved 662.
The day I remember turned out to be a day when Uncle Sid didn't want to go back to Springfield Asylum, so my mother put me in my pushchair to walk as far as the 662 bus stop on Wembley High Road, at the top of Swinderby Road in where we lived.
Uncle Sid started kicking Pop as we reached the High Road and this is what I still remember vividly. Pop fell down and grabbed Uncle Sid's leg and he fell down too, still kicking out at Pop and my mother was screaming.
I just stared. I remember that. It has to be the first fight I ever saw and all this happened outside Wembley Police Station.
I learnt from Pop at Uncle Sid's funeral, that he explained the situation to the police and refused the offer of a police car to take him and Uncle Sid to the Asylum.
At Uncle Sid's funeral, when we spoke about this for the first time, Pop explained that had Uncle Sid gone back in police car, he probably would not have been allowed out again for quite a while and Pop thought the best thing was to get Uncle Sid back to Wembley again as soon as possible.
This, my first real memory, was traumatic. I can now admit that I was probably a little wary of Uncle Sid from then on. This podcast tells me there is still more to write...
©️ROBERT HOWARD